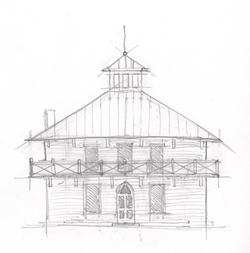 Things to consider ...
Below are some helpful questions to consider as you plan your project. Thinking through the answers to the following will help you identify your priorities for the project, and help us best determine if we are a good match to be able to meet your needs.
What is the purpose of your project (preparing house for a sale, adjusting to life changes, modernizing, historic restoration, etc)?
What is your budget for your project? Quality remodeling and building can often be more expensive than people imagine.
Have you started looking at fixtures, tile, flooring, paint, and appliances? These details are often time consuming to research and select, and are best decided upon prior to project commencement. Your choice of materials greatly influences cost, in a number of ways. For example, cheaply made cabinets often require additional labor to install compared to well constructed, but likely more expensive, cabinets. As a result, the cheaper cabinets do not always translate into a cheaper price tag.
Are you working with a designer and/or architect? We can meet with you and your designer/architect to ensure that planned ideas are practically feasible in the space (and time) allotted. Often a great idea on paper is not feasible in reality. We have years of experience working with designers, architects and homeowners to translate innovative design ideas into custom built spaces.
Are you ready for your house to be turned upside down for a bit? We pride ourselves on keeping a clean and orderly job site (e.g., we always block off areas of the house under construction with plastic over doorways, etc to minimize dust and debris from entering other parts of the house)--yet it is impossible to live in your home during construction/remodeling without some form of disruption to your daily life. For example, how would you be affected by losing a bathroom or your kitchen for a month?
How soon do you want/need the job done? It can take anywhere from two weeks to several months to properly plan everything out, agree with you on all the initial choices and decisions, and allow us to make the time to start a new job. Please note that we will not start a new job unless we can create dedicated time to focus on your job from the start. With this in mind, rest assured that we are here to assist you in the planning and decision making stages, and throughout the entire job.

What to look for when choosing a contractor?
Choose a competent, highly skilled carpenter with proven attention to detail working on jobs equivalent to the one you are thinking of (e.g., high-end kitchen renovation with custom cabinet installation and built-ins, then find a carpenter who clearly has experience in this area).
Choose a well-rounded contractor with a diversity of skills (i.e., one with the ability to do all aspects of construction, even if your job only involves a specific component). This will ensure that he is able to anticipate how to build jobs to ensure, for example, the plumber has enough room to do what he needs to do, etc. A contractor skilled in all areas, from frame to finish, electricity and plumbing (even if he does not perform these himself) will be able to plan more efficient jobs ensuring any sub-contractors needed are brought in when needed to ensure a continuous and smooth flowing job site, thus minimizing the amount of time your home is under construction.
Choose one. This person will be your single point of contact, responsible for anything that goes wrong, and there for you to bounce change ideas off of. Some clients choose to serve as "GC" (general-contractor) for their own jobs (i.e., they call around to get the cheapest quotes for each aspect of the job—plumbing, electrical, framing, cabinetry and built-ins, etc), but from experience this is more often than not counter-productive. All aspects of a job need to work in unison and take place in a specific order, and be of equivalent quality. For example, one sub is brought in to lay a hardwood floor up against the tile work in a bathroom, being performed by a different sub. The home-owner is unhappy with the final product where the two floor join, but each sub blames the other and the homeowner finds him or herself unable to get one of them to fix it. Other common problems are when the work of one sub performs makes it vastly more difficult (or impossible) for the next sub to complete his work as originally quoted (e.g., either due to poor quality work, poor quality materials used, etc). Hiring a single contractor to serve as GC avoids such problems as they are responsible for the entire job. Thus, Just like cheap materials, the lowest price sub-contractor is not always the best value!

Ask for a couple of references. When you contact them, ask them about quality, timeliness, cleanliness of the jobsite, respectfulness, responsiveness, attention to detail, and their overall opinion. Ask about any subs who were brought onto the job as well.
Also ask the contractor these same things directly. Ask him about things that are important to you, e.g., if you have small children or pets and you wonder how disruptive it will be or if any special precautions need to be taken.

What if I have multiple projects I want to get done?
If you have multiple projects around the house, break them down and prioritize. Often there is no benefit to doing everything at once. For example, tiling the entryway, building a custom stair railing, putting an extension on the back of the house, opening up the wall between the kitchen and dining room, and a bathroom remodel can all be done in smaller, manageable stages. On the other hand, sometimes it IS more cost-effective to bundle certain jobs if they would require duplicate costs if done separately (e.g., setting up elaborate staging more than once, or having to tear into walls or ceilings more than once), or if the sequence is illogical (e.g., insulating walls prior to having to open them up again to run plumbing for a new bathroom).

Please contact us if you would like to talk through the details of your project and obtain an estimate.